8 Zero Waste Blogs to Inspire Plastic-Free Living
If you're working to reduce your foodprint, then cutting out single-use packaging is paramount. From plastic water bottles to take-out food containers, plastic and/or Styrofoam food packaging to plastic grocery bags, plastic all around us, enmeshed in everyday life, eventually clogging landfills and polluting waterways. But our cultural reliance on convenience, convenience, convenience, doesn't make zero waste living easy. Even if you eat in, food often comes in some sort of disposal container. Purchasing unpackaged groceries can mean shopping at special stores. It takes effort, thoughtfulness and often some pre-planning to be plastic-free.
Luckily, the internet is a place packed with people giving guidance for how to live life with less plastic. Whether you're looking for inspiration, encouragement or a kick-start plan, these folks are all aiming to live zero waste and can help set you on the same path. Here are some of our favorite people to follow on social media when we want inspiration for cutting back on plastic.
Anita Vandyke of A Zero Waste Life
As a former aeronautical space engineer and current medical school student, Anita Vandyke brings a scientific eye to her zero waste life approach, posting advice and plastic swaps on her blog and well as her Instagram account, @rocket_science. And while she stresses the seriousness of the problem, she also acknowledges that going "zero waste" can be overwhelming. "'Zero' is just a number," she writes on her blog. "It's a goal, nothing more. I believe we can all be every day activists and do-little steps to reduce our waste. These small steps make a big cumulative difference."
Need a step-by-step guide to getting there? Her new book, "A Zero Waste Life: In Thirty Days" offers exactly that. To get started, she suggests making swaps in your everyday items: "Replace your disposables with reusables — items such as paper napkins, plastic grocery bags, disposable coffee cups can be replaced with cloth napkins, reusable cloth grocery bags and reusable coffee cups."
Anne-Marie Bonneau of Zero Waste Chef
Anne-Marie Bonneau made her zero-plastic shift in 2011, with a focus on her kitchen, recognizing this was where the majority of her household waste came from. To do so, she cut out packaged food entirely, and she regularly posts on her blog and social media all sorts of DIY recipes and cooking with less waste tips that help her do that. She has several plans on her site, including a 31-day guide for going zero waste, that can help kick-start you on the path, and she teaches classes out of her Mountainview, California studio for DIY fundamentals like bread, kombucha or kimchi making.
In her annual guide for going plastic-free, she stresses the importance of awareness: "To eliminate your plastic, you have to learn to say no often…No to that bottle of water someone hands you automatically at a conference. No to all the swag at that same conference. 'No straw' to servers before they can put one in your drink (some will put one in your drink…keep trying). No to the plastic bag the grocery store."
Bea Johnson of Zero Waste Home
Bea Johnson started documenting her shift to waste-free living in 2008 — one of the earliest zero waste bloggers who inspired many of the other bloggers on this list — when she, her husband and their two sons made the changes to cut their garbage down to a quart per year, cutting their annual spending by 40 percent as well. Her book, "Zero Waste Home," is sold in 25 languages, and she regularly lectures and posts on social media, sharing her advice and helping people around the world live more eco-consciously. What's her secret? "Refuse, reduce, reuse, recycle, rot (and only in that order) is my family's secret to reducing our annual trash to a jar since 2008," she writes on her website, where you'll find her 100 tips for living waste-free, as well as a bulk shopping finder tool, with a searchable database of 46,000 package-free locations in more than 160 countries.
Jonathan Levy of Zero Waste Guy
As an industrial engineer and certified sustainable resource manager, Jonathan Levy has worked with the Los Angeles school system, sheriff's department and the city's department of public works to help implement and expand recycling programs. Head to his blog and social media accounts to grab some of that expertise for yourself. There you can see a behind-the-scenes look at landfills, recycling plants and garbage audits, as well as tips for what you can do personally to keep trash out of the landfill. One of his biggest tips: don't buy anything new.
"I live by the mantra that was coined during the Great Depression: 'Use it up, wear it out, make it do or do without.' It can be so tempting to buy something new just for the sake of it. Before I make a purchase, I typically ask myself if I really need it," he says. "When it comes time to getting something new, I typically look to my local Buy Nothing group for a freebie, or one of the many secondary market sites like Craigslist or LetGo, or support a thrift store. My favorite part about acquiring something second hand is it is almost always package free, in great condition and way cheaper than buying the same item brand new."
Kathryn Kellogg of Going Zero Waste
Everyone has their own reasons for moving towards a waste-free life. For Kathryn Kellogg, it was health-related; she started making her own cleaning and skincare products and removed single-use plastics to avoid exposure to toxic chemicals after a cancer scare. When she realized that these changes would also help the environment, she started her blog and Instagram account, Going Zero Waste, to offer practical tips for reducing plastic use and waste. "A lot of people think zero waste living is time-consuming and expensive, and I'm happy to say, it's neither of those things," she says. "Zero waste living at its core is depression-era living. It's about saving and using what you have instead of constantly buying new." To get started, she suggests "the big four": say no to straws; ditch the plastic water bottle; bring your own shopping bags; and avoid single-use coffee cups.
Lauren Singer of Package Free Shop
A bit of a celebrity in the waste-free blogging world, Lauren Singer is the founder of New York City's Package Free Shop, a 100 percent zero waste store. Lauren blogs at Trash is for Tossers' and defines zero waste as literally zero garbage. "No sending anything to landfill, no throwing anything in a trash can, nothing," she writes on her blog. And she walks the zero waste walk: she's kept all of her garbage for the past seven years in a single 16-ounce glass jar. Her blog outlines everything from entry-level info like a beginners guide to going zero waste and zero waste swaps, to more hardcore changes, like recipes for making DIY toothpaste. Think going waste-free is expensive? She's got a list of changes you can make that are totally free.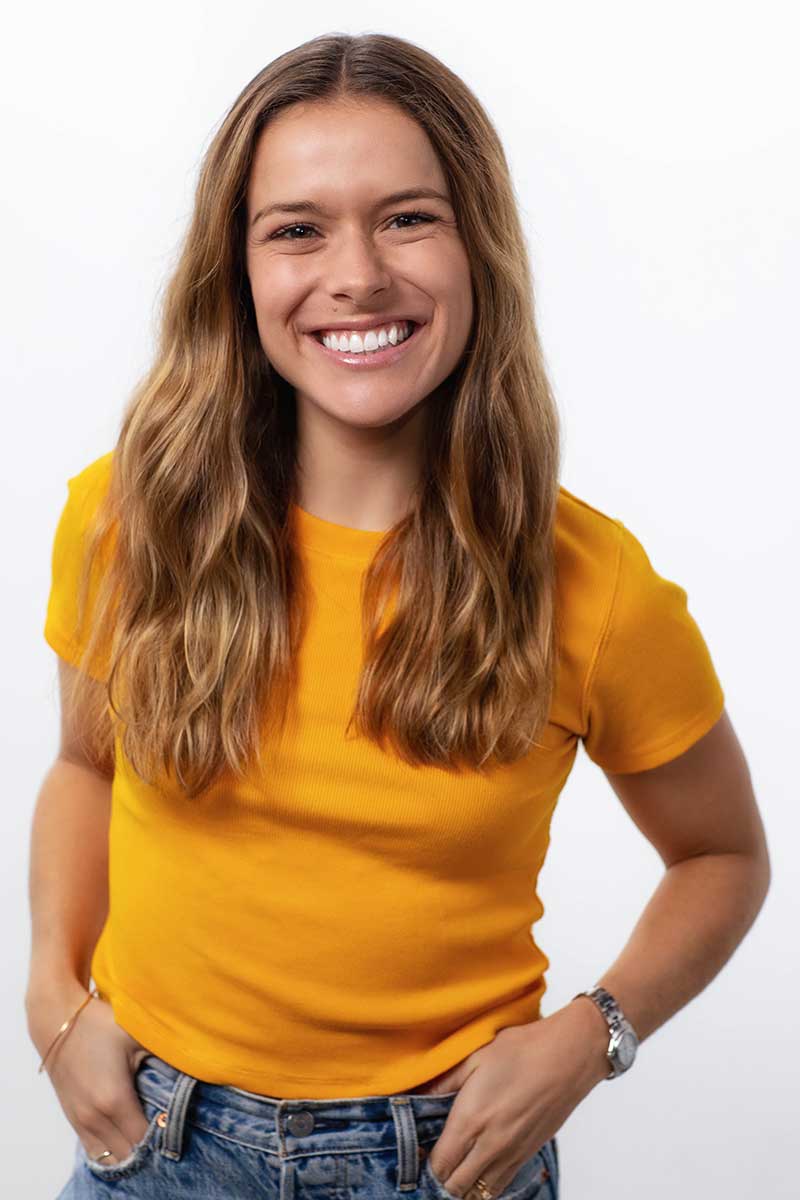 Lucy Biggers of One Small Step
NowThis News Host Lucy Biggers reports on sustainability and environmental stories in her series One Small Step, highlighting climate activists and environmental issues, and giving viewers tips on living more sustainably, from how to grocery shop with zero waste to greening-up your toilet habits. Along with her YouTube channel, Biggers' blogs and posts on Instagram about her videos stories as well as thoughts and tips she has on living plastic-free. For those just getting started, she shared this tip:
"As simple as it sounds, saying no to the plastic bag is a great first step in reducing your personal waste. I like this step because you can do it without buying anything new," she says. "Once you've mastered that, try not using produce bags or bringing your own cup to the coffee shop."
Rob Greenfield of Dude Making a Difference
As an environmental activist and author, Rob Greenfield creates and participates in action-grabbing projects to bring light to environmental issues, including "Trash Me," during which he wore every piece of trash he created for 30 days, and most recently "Food Freedom."
"In 2011 I realized that most of the food I was eating was wrapped in plastic, leaving trash behind for future generations," he explains. "I was very inspired to start growing some of my own food so that I could start eating food that didn't travel a single mile to get to me and would leave no trash behind after I ate it. In 2018, I embarked on a year-long journey to grow and forage 100 percent of my food. That meant nothing processed or packaged for an entire year! I did it and it was a wonderful year immersed in my food."
His blog offers tips and advice for how to make change. You'll find advice on cutting back on plastic and reducing your trash, information on his experience growing and foraging for food, and many other topics to help take your eco to a whole new level. Greenfield also shares on his Instagram account, regularly posting from his tiny house in Orlando, where he documents the extreme efforts he makes to have the smallest footprint possible.